I have used raw honey for treating a number of conditions where over-the-counter and even prescriptions did not get the job done.
Honey is being rediscovered as a medical phenomenon. Honey naturally contains nutrients and enzymes that have a variety of health benefits and medical uses. Perhaps that's why it has been used as a folk remedy throughout history. Today, honey is still a popular food and is even used in some hospitals as a medical treatment for wounds. However, these health benefits are specific to unpasteurized honey.
Manufacturers process most of the honey you find in grocery stores. Heating the honey helps improve the color and texture, and removes any unwanted crystallization. Many of the beneficial antioxidants and bacteria are also removed or destroyed in the process.
What Is Unique About Raw Honey
Honey gets its sweetness from the fructose and glucose, and has about 30% more relative sweetness than granulated sugar so we tend to use less. It has attractive chemical properties for baking and a distinctive flavor that leads some people to prefer it to sugar and other sweeteners. This distinct taste also prevents mos people from over eating honey compared to table sugar. Most microorganisms do not grow in honey so sealed honey does not spoil, even after thousands of years. However, honey sometimes contains dormant endospores of the bacterium Clostridium botulinum, which can be dangerous to babies, as it may result in flaccid bowel resulting in constipation.
The Bees Are The Biochemists
Bee digestive enzymes – invertase, amylase and diastase – and gastric acid break down sucrose to a mixture of glucose and fructose. The bees work together as a group with the regurgitation and digestion for as long as 20 minutes until the product reaches storage quality. It is then placed in honeycomb cells left unsealed while still high in water content (about 20%) and natural yeasts, which, unchecked, would cause the sugars in the newly formed honey to ferment. The process continues as hive bees flutter their wings constantly to circulate air and evaporate water from the honey to a content of about 18%, raising the sugar concentration and preventing fermentation. The bees then cap the cells with wax to seal them. As removed from the hive by a beekeeper, honey has a long shelf life and will not ferment if properly sealed.
If you're interested in trying raw honey, buy it from a trusted local producer, such as Prescott Honey Farms. In the meantime, check out some of the health benefits raw honey has to offer:
1. A Good Source of Antioxidants
Raw honey contains antioxidants called phenolic compounds. Some types of honey have as many antioxidants as fruits and vegetables. Antioxidants help to protect your body from cell damage due to free radicals.
Free radicals contribute to the aging process and may also contribute to the development of chronic diseases such as cancer and heart disease. Studies show that polyphenols in honey may play a role in preventing heart disease.
2. Antibacterial and Antifungal Properties
Raw honey can kill unwanted bacteria and fungus. It naturally contains hydrogen peroxide, an antiseptic. Several hospitals in Europe have used Manuka honey to fight methicillin-resistant Staphylococcus aureus (MRSA), a type of staph bacterial infection that's become resistant to antibiotics. The effectiveness of honey as an antibacterial or antifungal depends on the type of honey.
3. Vitamins And Minerals
Raw honey is rich in vitamins and minerals. Vitamin B6, thiamin, niacin, riboflavin and pantothenic acid are common vitamins found in raw honey, but amounts vary by floral type of honey. The minerals calcium, copper, iron, magnesium, manganese, phosphorus, potassium, sodium and zinc are abundant in raw honey.
[highlight]Did You Know? The exact ingredients of honey depend on which plants bees get their nectar from.[/highlight]
4. Heal Wounds
Manuka honey is also used in medical settings to treat wounds because it's an effective germ killer. Researchers believe this is because it has additional antibacterial properties besides the natural hydrogen peroxide.
Studies show that Manuka honey can boost healing time and reduce infections in wounds. However, the honey used in hospital settings is medical grade, meaning it's safe and sterile. You shouldn't expect to treat injuries with the honey you buy from a grocery store.
5
. Filled with Phytonutrients
Phytonutrients are compounds found in plants that help protect the plant from harm. For example, some may keep insects away or shield the plant from harsh UV radiation.
Phytonutrients provide both antioxidant and anti-inflammatory benefits, which help you maintain good health. Because honey is made from plants, it also has abundant phytonutrients. These valuable nutrients are unique to raw honey and disappear when honey is heavily processed.
6. Help for Digestive Issues
Honey is sometimes used to treat digestive issues such as diarrhea, though there isn't much research to show that it works. However, it's proven to be effective as a treatment for Helicobacter pylori (H. pylori), a common cause of peptic ulcers. (Peptic ulcers occur in the stomach or digestive system.) Taking 1-2 teaspoons on an empty stomach is said to soothe pain and help with the healing process.
7. Soothe a Sore Throat
Have a cold? Try a spoonful of honey. Honey is an old sore throat remedy. Try adding it to hot tea with lemon. It also works as a cough suppressant.
Research shows that honey is as effective as dextromethorphan, a common over-the-counter cough medicine ingredient, in treating a cough. Just eat one or two teaspoons straight.
8. Weight loss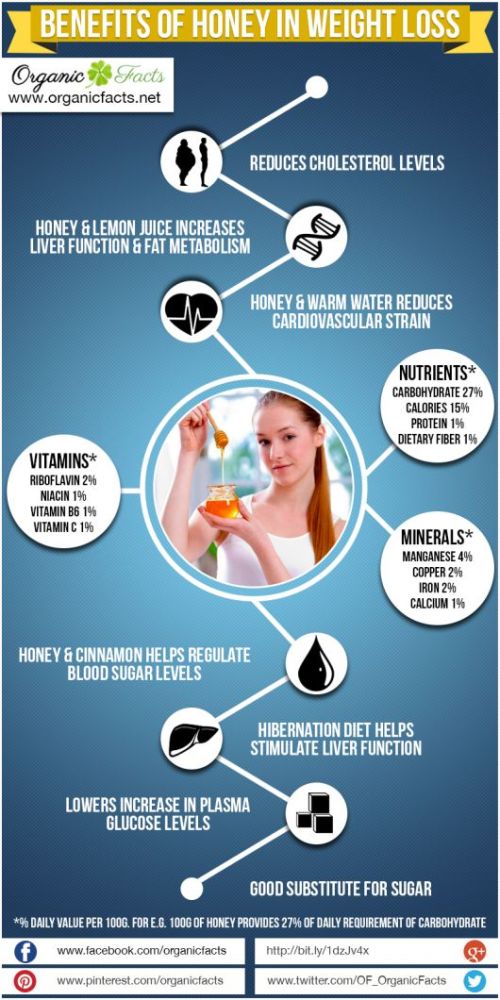 Yes that is right! Honey has been used to curb the craving for sugar with some amazing positive side effects. Normally, fat remains as an unused resource in the body, adding bulk and weight, but it is believed that honey has the ability to mobilize this stored fat. When this fat is burnt to provide energy for your daily activities, you will see a gradual decrease in weight and a relief from the problems of obesity.
A popular recipe combines cinnamon with honey and warm water. Research studies suggest that the use of cinnamon is beneficial for weight loss.
Mix one tablespoon of cinnamon power with one tablespoon of honey and one cup of warm water. Thoroughly mix these ingredients and drink it on an empty stomach.
Cinnamon has also been shown to have a regulating effect on blood sugar levels, and the metabolism of glucose. High blood sugar levels can lead to increased storage of fat in the body, so cinnamon has a positive impact on this aspect of weight loss. Combined with the metabolism power of honey, this mixture can be a powerful boost to your weight loss efforts
To Get Your Own Personalized Nutritional Analysis Report & CD through the Build A Better You Program. Call Angie: (503) 631-4184